Control, Alarm & Monitoring Systems
For All Types of Propulsion and Maneuvering Systems
BruCon
BruCon 4 is an integrated bridge control system for all types of propulsion and maneuvering systems with high level of redundancy with online condition monitoring.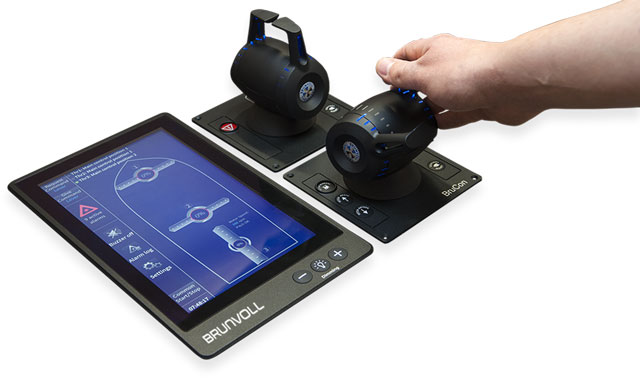 Brunvoll Bridge Control
Advantages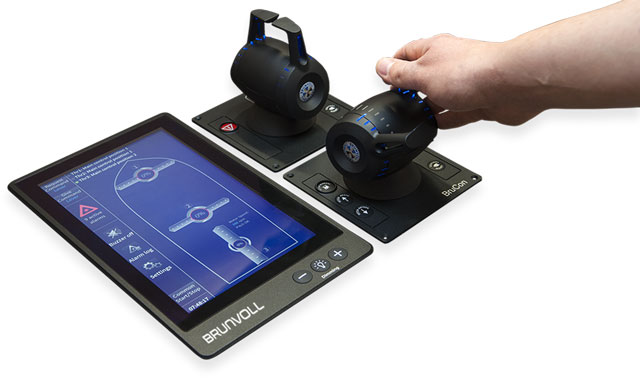 Brunvoll Bridge Control
Joystick systems available for all types of maneuvering systems.
Dual redundant system with integrated presentation in a high-quality touch screen for all manoeuvre systems.
Customized and selectable user interface with extended information according to needs.
BruCon 4 makes it easier to identify any potential problem with the integrated condition monitoring system reduce after-sales service costs and maintenance effort.
As well as being a reliable stand-alone system, BruCon 4 provides easy integration with other monitoring and control systems.
There is no time lag between the command and the response or feedback signal.
BruCon 4 enables a fast and knowledgeable response to after-sales service questions.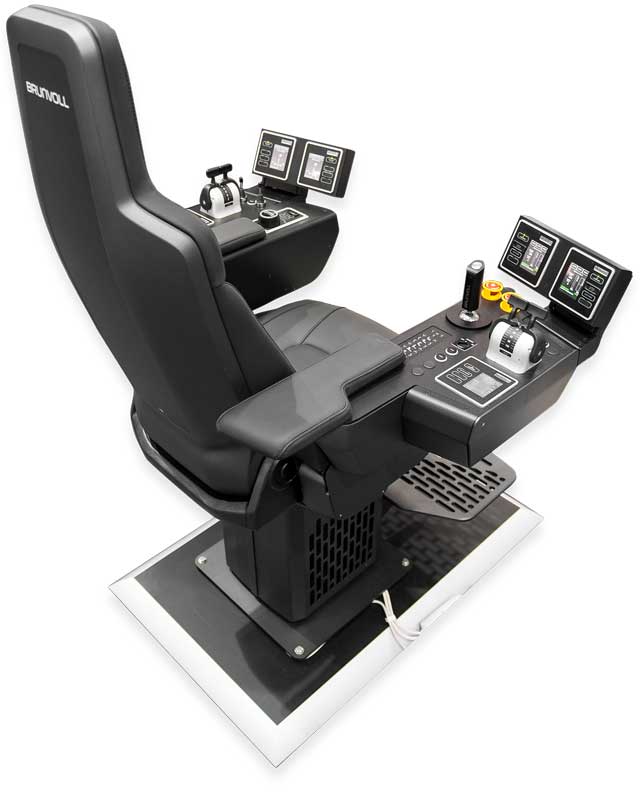 Brunvoll Pilot Chair
Features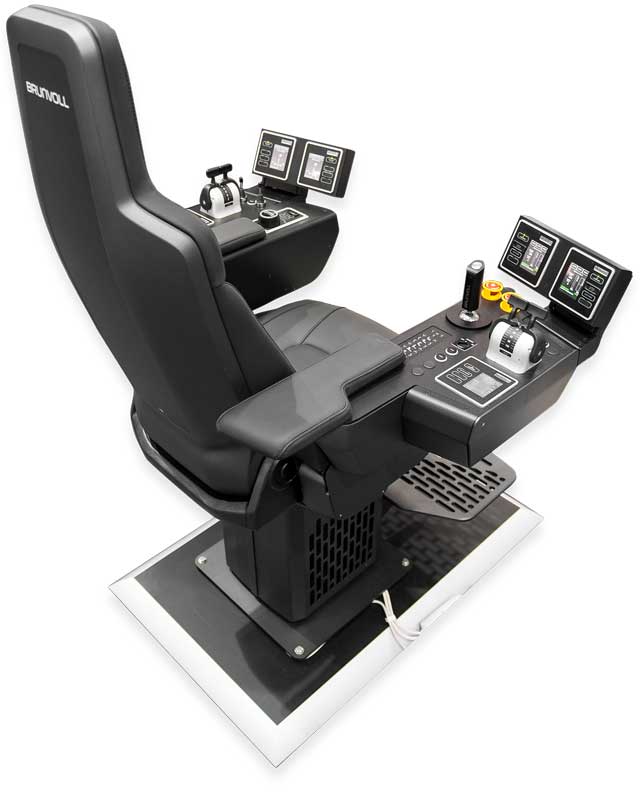 Brunvoll Pilot Chair
For both single and multi thruster installations for maneuvering and DP, as well as for main propulsion units, whether azimuth units or propellers with rudders.
The automation system is designed, built and tested in-house by Brunvoll.
The same hardware modules are used for all configurations.
Variants are parameter controlled and are configured in software.
The GUI is customized for each specific thruster configuration.
Remote access is standard.
Option with motor controlled levers and levers qualified for IP66.
Option for hardwired back-up control for all control stations.
Options for extended CMS.
Type approval from DNV GL.
Mar-El
Brunvoll Mar-El is a leading supplier of maritime electronic remote control systems for propulsion manoeuvring and special applications for fast ferries, yachts, fishing vessels, offshore support and cargo carrying vessels.
Neptune II CPP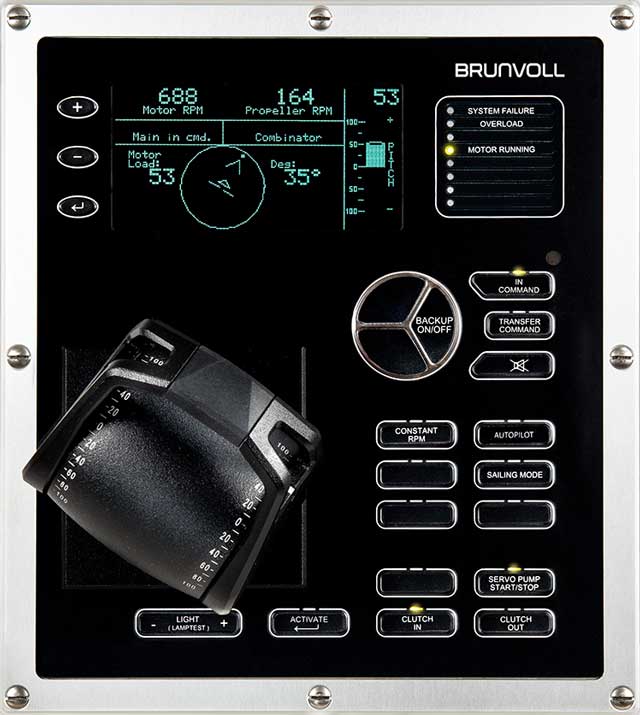 Neptune-II CPP is a PLC based control system for propulsion for vessels with CP-propellers. It is designed according to the fail-safe principle and is built up with a high level of redundancy. The system is very user friendly, highly accurate, advanced and flexible. Neptune II system is type approved by major classification societies.
Triton CPP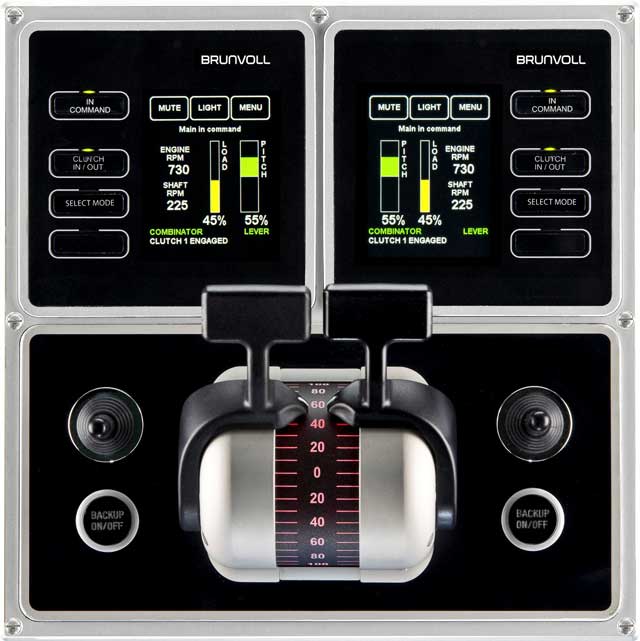 Triton CPP is a PLC based remote control system for CP-propellers. The standard Triton CPP is a less complex system than Neptune II. Triton CPP has a limitation in optional functions and possibilities. The system is designed as a standard system according to the fail-safe principle, it is very user friendly and highly accurate. Triton CPP is type approved by major classification societies.
Triton CPT/FPT Thruster Control
The Triton Thruster control system is a PLC based control system for tunnel thrusters and manoeuvre azimuth thrusters. Triton thruster control system comes in versions for CP-propellers and for FP-propellers. The system can be of standard or custom design to meet specific requirements.
Triton Steering Gear System
Triton-SG is a PLC-based synchronised follow-up or non-follow-up remote control system with alarm handling. Triton-SG is available both as standard and custom designed solutions for all types of steering gears.
Triton JS Joystick System
Triton-JS is a joystick system specially designed for high-speed vessels and work boats with controllable pitch propellers, rudders and thrusters. The unique system allows for control of the entire propulsion arrangement from one single joystick, a feature commonly found only in larger and far more complex DP systems.
Mercury Emergency Telegraph System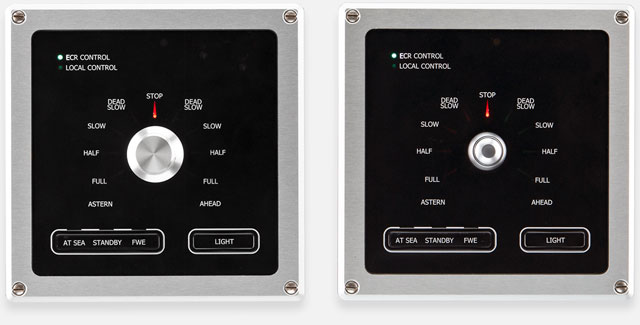 Mercury-ETS is a computer-based system for visual and audible emergency order communication between bridge and local control. The system consists of a bridge panel, one or two panels for local control stations (e.g. engine room and/or engine control room) and a power cabinet with outputs to alarm system and voyage data recorder (VDR).