Ballast Water Management
Scalable, low-cost, chemical-free, small & safe
Green Technology at its best
System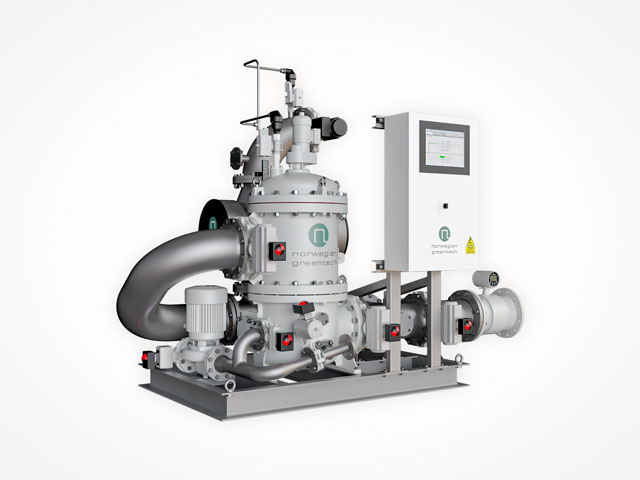 NGT BWMS D4XL10 – 518 m³/h, Skid: 1,940 mm x 1,340 mm (L x W), Height: 2,067 mm
Norwegian Greentech (formerly MMC Green Technology) offers modular and chemical-free environmental friendly Ballast Water Management Systems (BWMS) based on particle filtration and UV-sterilisation – approved according to IMO and DNV GL standards.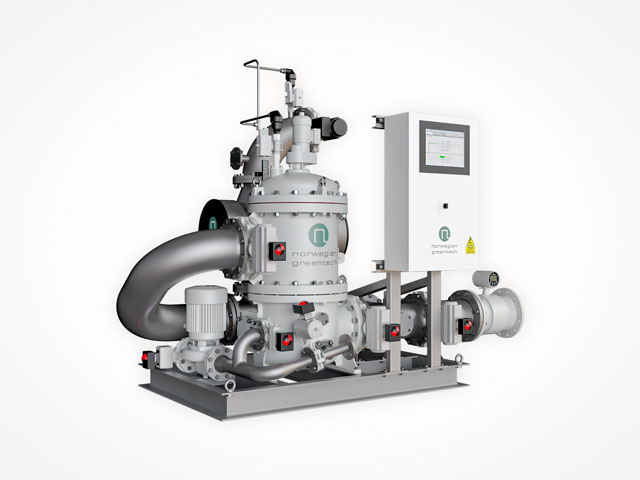 NGT BWMS D4XL10 – 518 m³/h, Skid: 1,940 mm x 1,340 mm (L x W), Height: 2,067 mm
With flow rates from 25 up to 1.274 m³/h their still small footprint makes them a perfect choice where limited space is available.
Being chemical-free, the system provides safety to the crew and a swift operation, without creating repeating costs or requiring dangerous chemicals to be stored on-board.
Its computer-based control system makes it astoninglishly easy to handle and provides verbose logging functionality.
Main Features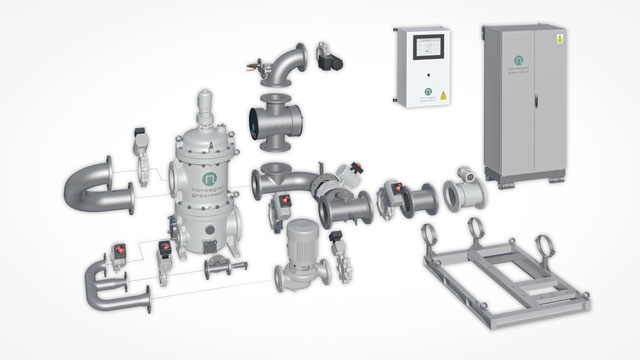 Modular design – deliverable as skid or separate components (simplifies retrofit)
Small footprint
Simple installation
User-friendly
Maintenance-friendly
Low power consumption
Low operation cost

Modular design

Can be delivered as skid or in separate components
Capacities from 25 to 1,274 m³/h
Latest UV technology
Can be integrated into existing automation systems (IAS)
Chemical free – no dangerous active substances
PC based touch-screen control system with remote access available
Type Approval Certificate from DNV. The BWMS complies with IMO Resolution MEPC.300(72)
Certificate of Approval from United States Coast Guard (USCG)
Models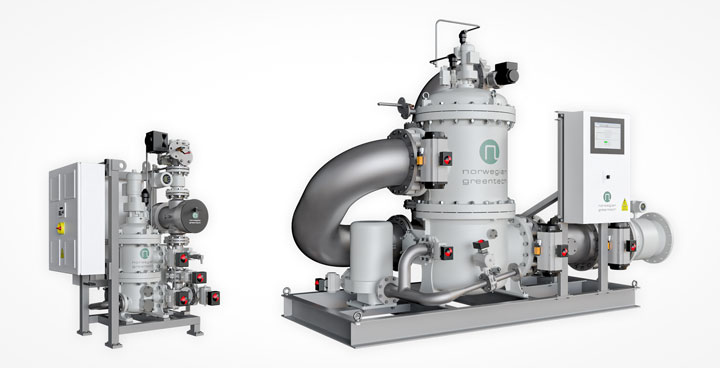 NGT BWMS DL2 & D5XL16 – 25 m³/h to 1,274 m³/h
Norwegian Greentech's product range consist of eight models, covering flow rates from 25 m³/h up to 1,274 m³/h.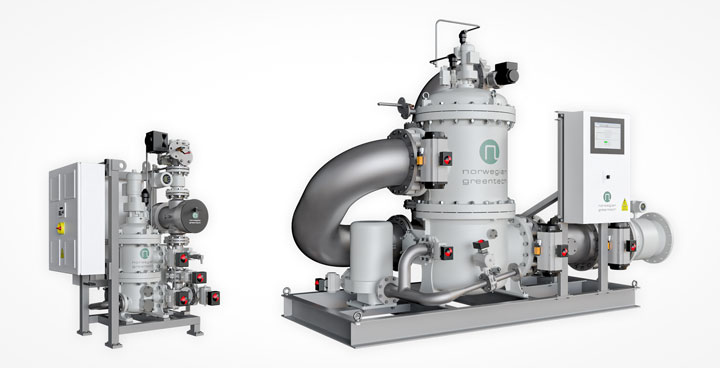 NGT BWMS DL2 & D5XL16 – 25 m³/h to 1,1274 m³/h
Differing only in size and capacity, each of them features Norwegian Greentech's unique environmental friendly combination of particle filtration and UV-light sterilisation, a very small footprint, low energy consumption as well as safe and easy operation.
Filtration & Sterilisation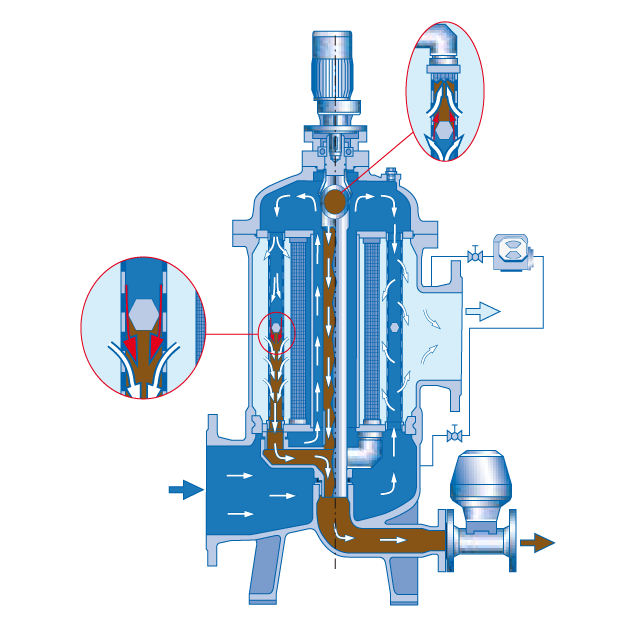 NGT filter cross-sectional view
The Norwegian Greentech BWMS uses an environmental friendly combination of self cleaning filters for particle filtration and UV-light for sterilisation. Norwegian Greentech's filters are the most recognized filters in the Ballast Water Business today. With by far the longest reference list on the market, Norwegian Greentech also has the broadest experience in the industry.
NGT filter cross-sectional view
NGT filters consist of several filter candles made of super duplex steel (chrome-nickel-molybdenum) with a filtration degree of 40 micron
A sacrificial anode provides perfect corrosion protection
The filter's backflush pump installed as standard ensures efficient cleansing of the filter candles
Fully configurational backflush setpoint
Approximately 5-years service interval
The UV lamps used are designed to provide a guaranteed, fully effective life-time of 3,000 hours on maximum power – approximately five years on an offshore platform supply vessel. However, practice has proven that the device has a significantly longer lifespan.
Control System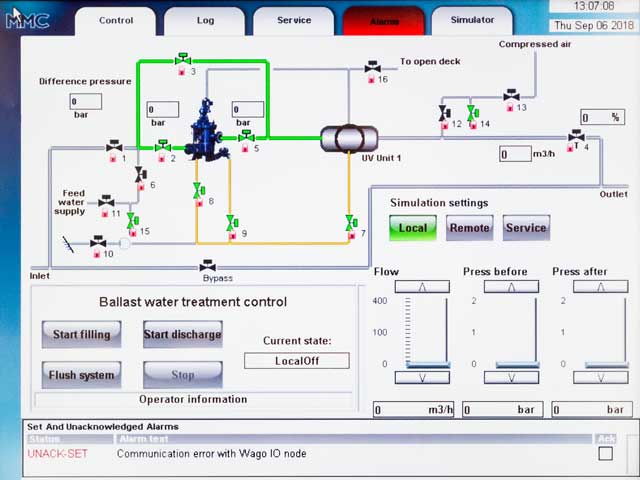 Screenshot of NGT's BWMS Control Center
The Norwegian Greentech BWMS features a state of the art control system, running on a modern industrial computer with an intuitive and user friendly graphical interface and touch screen operation. Its highlights are: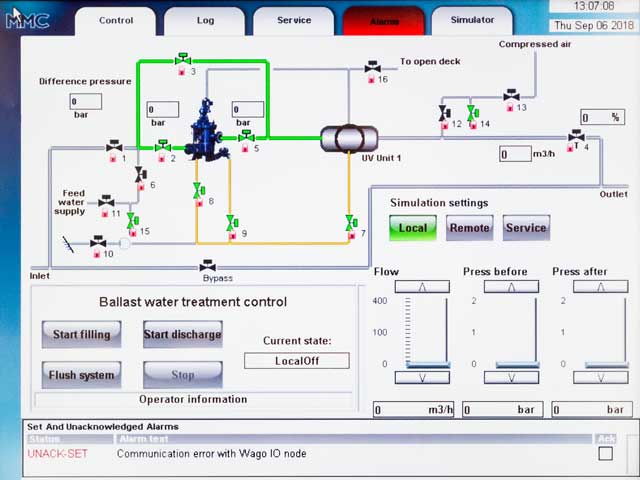 Screenshot of NGT's BWMS Control Center
Easy integration into existing automation systems (IAS)
Easy possibilties for remote access
Large touch-screen for good overview and intuitive operation
Reliable, state-of-the-art components
Informative warnings and alarms
Logs all operations, supports easy data export and on-screen history browsing
Built-in simulator for training purposes