Propulsion & Manoeuvring
The whole of Propulsion & Manoeuvring
One source, one service partner
Brunvoll AS



Brunvoll AS is a Norwegian single-source supplier who covers the whole Propulsion, Positioning and Manoeuvring System. Brunvoll provides fully integrated solutions complete with drive motors, gearboxes, propellers, hydraulic power units, control, alarm and monitoring systems.
Brunvoll offers electric, hybrid and diesel drive systems. Each system can be optimised to meet the needs of the individual vessel and operation.
Brunvoll operates globally and is a well recognized brand in the maritime industry, where they have established strong market positions in their key market segments. Brunvoll's customers include many of the leaders in design, building, operation or ownership of advanced vessels.
Main Thrusters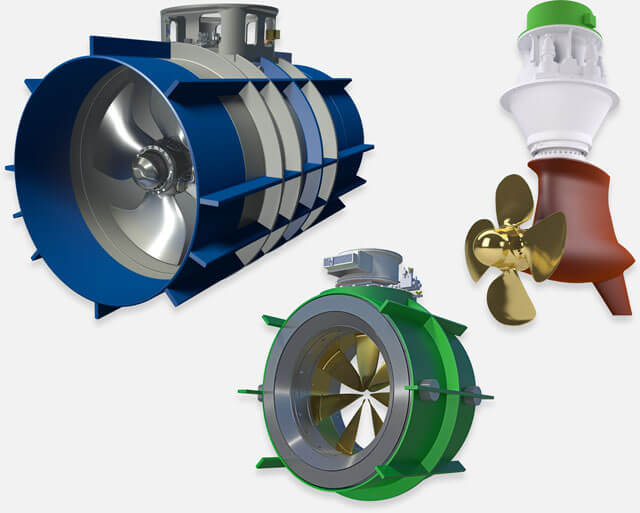 Tunnel Thrusters, Low Noise Tunnel Thrusters, Azimuth Thrusters, Rim Driven Thrusters, Azipull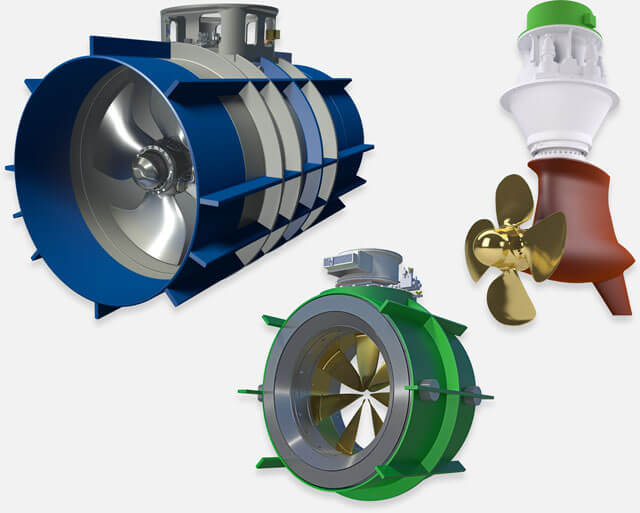 Brunvoll Thrusters are designed for the most demanding requirements according to North Sea offshore standards, used on all types of vessels.
They are the product of years of experience. The units have proved their worth in a variety of demanding applications, from research ships and coast guard vessels to offshore supply vessels and shuttle tankers operating in the harsh climate of the North Atlantic.
A variety of extensions to suit your needs is available. Our in-house engineering expertise enables us to develop effective solutions for challenging projects.
Main Propellers & Propeller Nozzles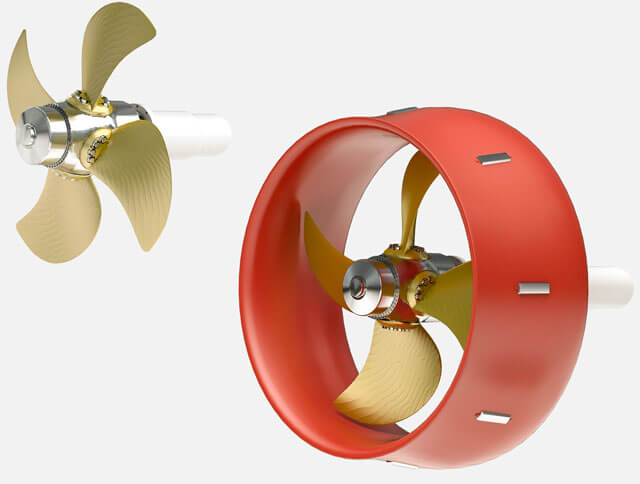 All Brunvoll Controllable Pitch (CP) and Fixed Pitch Propeller (FP) configurations are individually designed for each particular ship. Their tailor-made blade design ensures optimum propeller efficiency with lowest possible vibration and noise levels.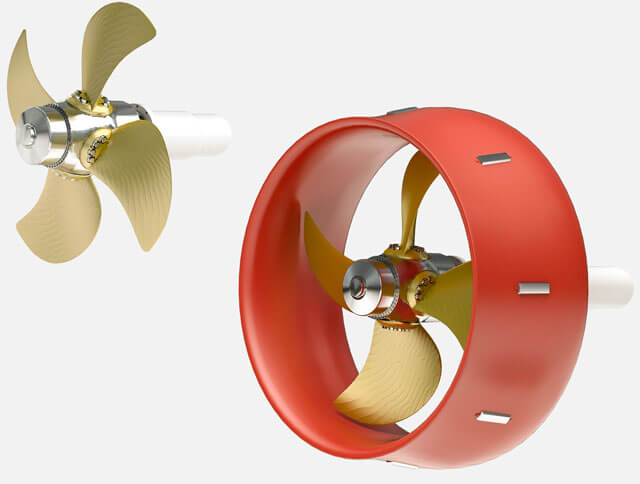 Brunvoll HE nozzles are specifically designed to increase the thrust from the propeller in bollard pull conditions. They deliver up to 30% higher thrust at low speed compared to an open propeller.
Reduction Gearboxes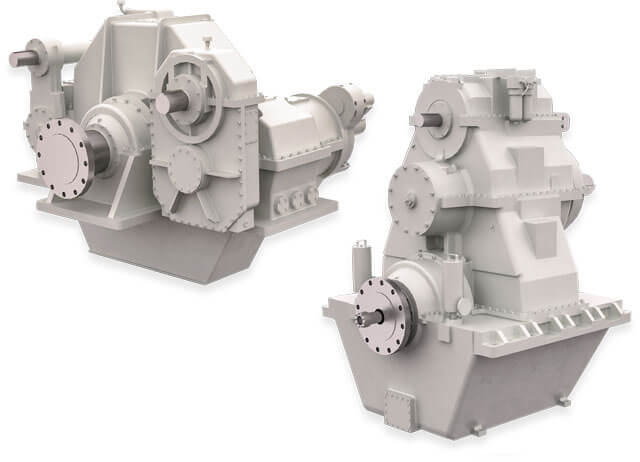 All Brunvoll gearboxes are customised for the specific vessel. All materials used in the gearboxes are carefully selected to ensure the right conditions of the product.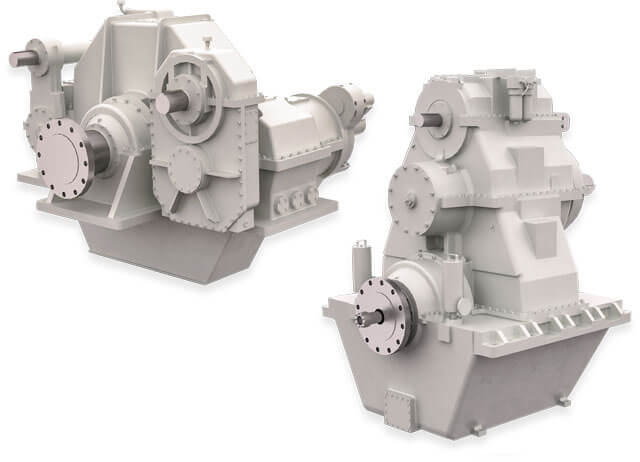 The gear housing is made from high quality cast iron to achieve a rigid and stiff design.
Plain white metal bearings for pinion and bull gear shafts ensure extremely good reliability.
The gearwheels are of the highest quality and designed with large safety margins.
Hydraulic-operated multi-plate clutches for optimum and smooth operation of the entire propulsion system.
Control, Alarm & Monitoring Systems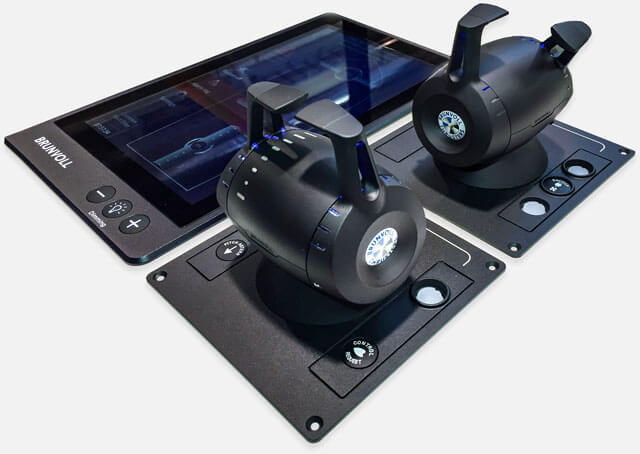 Brunvoll designs and produces complete control systems for optimal operational reliability, lifespan and cost efficiency.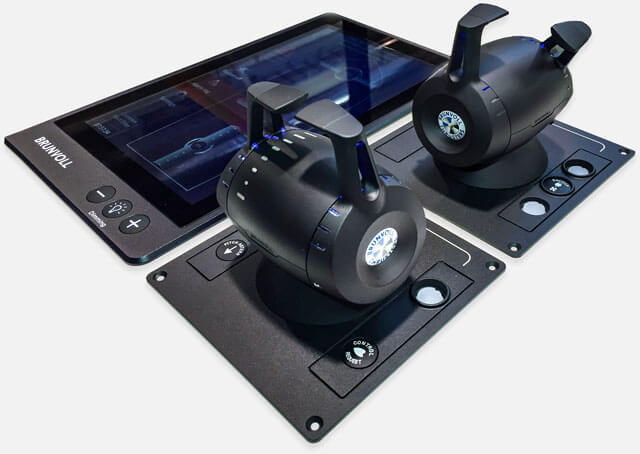 Brunvoll control systems are designed to suit most vessel types, from fast ferries and yachts to fishing boats, cargo vessels and offshore supply vessels. Brunvoll's innovative products and system solutions incorporate the latest microprocessor and PLC technology developed based upon Brunvoll's extensive experience.
Dual redundant system with integrated presentation in a high quality touch screen..
Customisable user interface with extended information according to needs.
As well as being a reliable stand-alone systems, Burnvoll's systems provide easy integration with other monitoring and control systems.